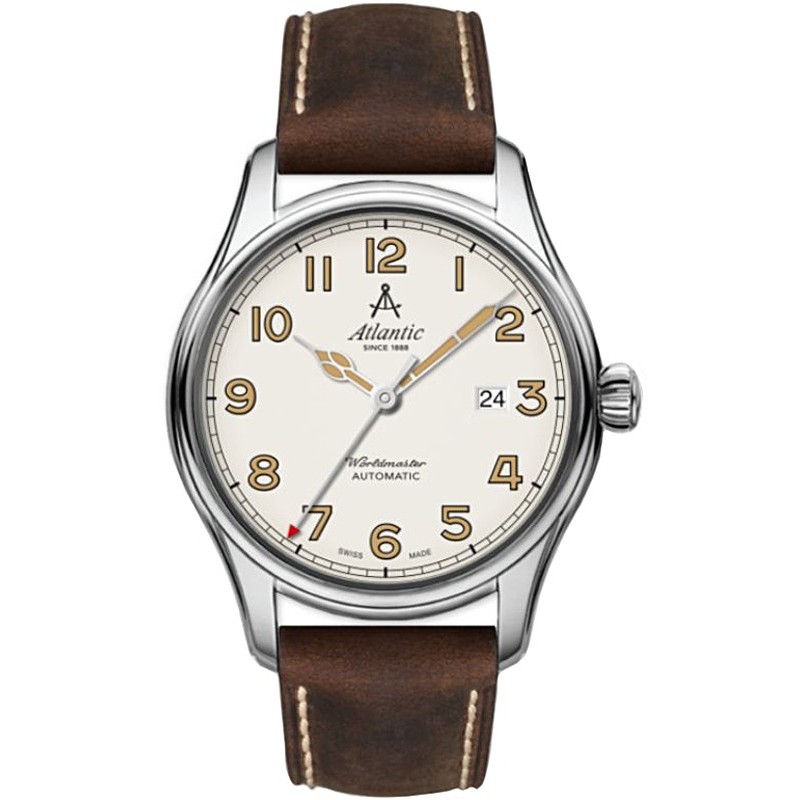 keyboard_arrow_up keyboard_arrow_down
ATLANTIC WORLDMASTER 52752.41.93S
Save 15% - you save 323.17zł
The Atlantic company was established in Bettlach, a village near Grenchen Switzerland, in 1888. It was founded by Eduard Kummer, born March 26, 1845. He was one of the founders of Swiss watchmaking. During his many years of apprenticeship and further education in the Swiss Jura, he constantly refined his skills as a watchmaker. He came back to his native city as a qualified master of horology. The citizens of Bettlach recognized Kummer's business ambitions and supported the establishment of the industry, which soon became the heart of Swiss watchmaking. The vision of setting up a high-quality watchmaking business became true. In 1888, 15 to 20 employees worked in the first workshop. Over the subsequent years the factory developed steadily, reaching 720 employees before the end of the 19th century.







Automatic
Liczba kamieni: 26
Rezerwa chodu: 38h













Display back
Luminous hands
Luminous numerals

2 years
Gwarancji udziela sklep westwatches.pl
Buy comfortably, choose the installments of Credit Agricole bank.
That's easy, it takes just four steps:
1. When your shopping cart value gets over 300PLN use the installments of Credit Agricole, fill the form and wait for decision.
2. Transfer PLN 1 and attach a photo of your ID card.
3. Confirm with SMS code.
4. You will receive the contract by e-mail and the store will start processing your order.
Shipping fees include handling and packing fees as well as postage costs. Handling fees are fixed, whereas transport fees vary according to total weight of the shipment. We advise you to group your items in one order.
We cannot group two distinct orders placed separately, and shipping fees will apply to each of them. Your package will be dispatched at your own risk, but special care is taken to protect fragile objects.
Boxes are amply sized and your items are well-protected.