Lifestyle
WestWatches

WestWatches.pl in the place where You can find a watch for every occasion. We sell retail and wholesale. Both in the stationary stores and online. Our consultants are watch enthusiasts, always ready to share their knowledge.

X

Orient

Orient until today, is still one of the widely-recognized watchmakers in Japan, Its elaborate use of texture and vintage-inspired look is ready to give your wrist the upgraded it needed. As our most distinguished and exquisite timepiece collection, ORIENT has always provided exceptional quality, craftsmanship and elegant simplicity since 1951. Through wide selection of Orient this one stands out from the crowd. As long as Orient company exists, they're famous for their passion and quality.

Laco

Laco is a German manufacturer with a real history of producing tool watches for pilots. The brand is independent, and well know around the world. Many years of tradition in the manufacture of watches has an influence on the precision and perfection of their products. Laco watches are a manifesto for the beauty of the art of watchmaking. Accuracy in every detail makes these watches unique. Inspired by vintage design, the Classic collection achieve a tailored, understated aesthetic that's always in style. This sophisticated piece of Laco watchmaking fits best to people who seek for high class jewelery. High-performance technology and enduring quality, following the Laco tradition. The company has a serious reputation for producing timepieces with high accuracy, style, and durability.


Emille Chouriet

To perpetuate the art of timekeeping and to work for the transmission of skilled craftsmanship have therefore always counted among the most important guiding principles for work. Firmly anchored in a plurisecular tradition but resolutely oriented towards the future, we are building our own tradition with each new collection, redeploying each time the wings of our DNA into new, contemporary and original designs.

Vostok Europe

Vostok Europe has found a golden mean between competitive character and subtle elegance. All Vostok Europe watches have names referring to the world's greatest achievements. It is worth mentioning that Vostok Europe watches are produced with extreme conditions in mind. They were trusted by rally drivers, aerobatic pilots and submarine crews. Thanks to their resistance, they are prepared for both daily operation and intensive use in the field.

Squale

Squale is a trustworthy Swiss manufacture, its priorities are precision and safety. For over 60 years they have been producing watches intended mainly for professional diving.

We invite You to check our offer here!
You have to be logged in to like this post.
Log in
Comments
No comments
See popular articles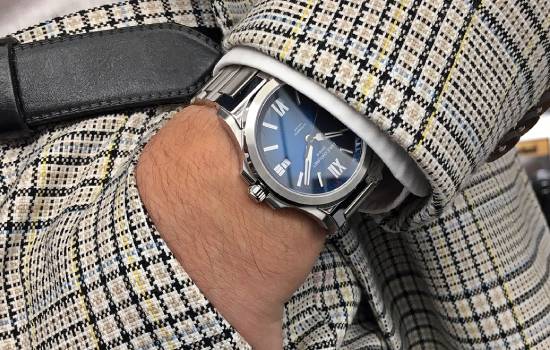 Wszystko, co musisz wiedzieć o mechanizmie in-house. Oto nasze vademecum wiedzy!
<p style="text-align: justify"><em>Posiadanie prestiżowego czasomierza z mechanizmem in-house stanowi marzenie dla naprawdę wielu pasjonatów sztuki zegarmistrzowskiej. Temat tego typu wnętrza jednak od zawsze elektryzuje osoby zafascynowane modnymi akcesoriami stylistycznymi. Kiedy można powiedzieć, że zegarek został wyposażony w mechanizm in-house? Jakie warunki musi spełniać czasomierz, żeby należeć do tak unikalnego grona? Poznaj odpowiedź na kilka najważniejszych pytań. Razem ze sklepem WestWatches staniesz się niepodważalnym ekspertem branży. Oto mechanizm in-house w pigułce!</em></p>