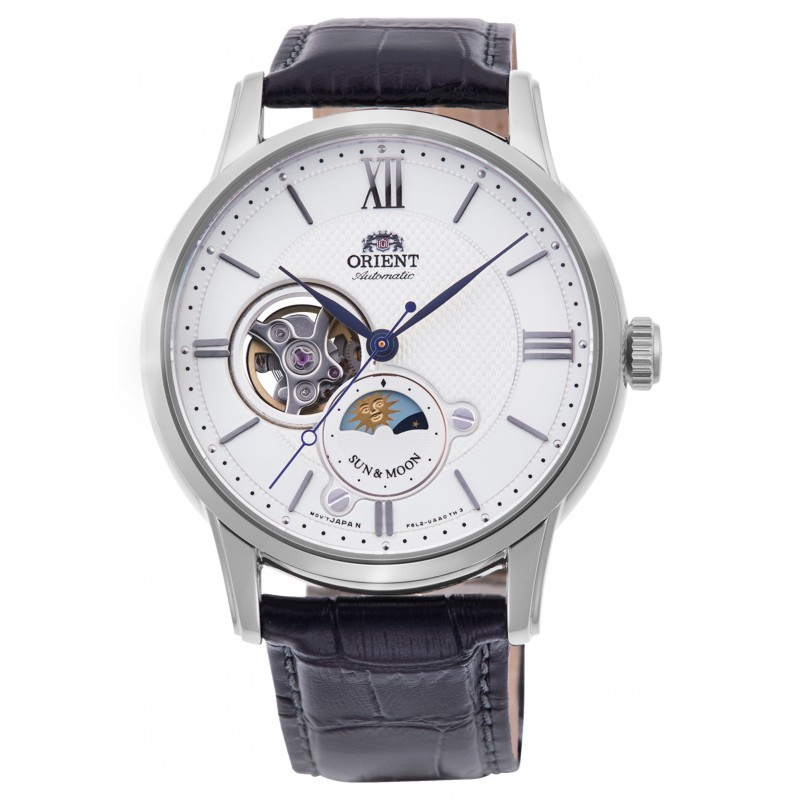 keyboard_arrow_up keyboard_arrow_down
ORIENT SUN & MOON RA-AS0005S10B
Save 35% - you save 611.79zł
Orient until today, is still one of the widely-recognized watchmakers in Japan, Its elaborate use of texture and vintage-inspired look is ready to give your wrist the upgraded it needed. As our most distinguished and exquisite timepiece collection, ORIENT has always provided exceptional quality, craftsmanship and elegant simplicity since 1951. Through wide selection of Orient this one stands out from the crowd. As long as Orient company exists, they're famous for their passion and quality.







Automatic
Liczba kamieni: 22
Orient F6L24
Rezerwa chodu: 40h










Blue steel hands
Open-heart

3 lata
The warranty is provided by the Westwatches.pl Store
Buy comfortably, choose the installments of Credit Agricole bank.
That's easy, it takes just four steps:
1. When your shopping cart value gets over 300PLN use the installments of Credit Agricole, fill the form and wait for decision.
2. Transfer PLN 1 and attach a photo of your ID card.
3. Confirm with SMS code.
4. You will receive the contract by e-mail and the store will start processing your order.
Shipping fees include handling and packing fees as well as postage costs. Handling fees are fixed, whereas transport fees vary according to total weight of the shipment. We advise you to group your items in one order.
We cannot group two distinct orders placed separately, and shipping fees will apply to each of them. Your package will be dispatched at your own risk, but special care is taken to protect fragile objects.
Boxes are amply sized and your items are well-protected.